:: Cahuita Hotel :: How to get to Cahuita Town, Ciudad Perdida ecolodge
By Car:
From San Jose take the Highway #32 to Limon. You will pass the Braulio Carrillo National Park and the Rainforest Aerial Tram. Continue driving through Guapiles, Siquirres and Matina. Just before arriving downtown Limon you will pass through a cemetery. Continue on that road for about 1 kilometer and then you will see the sign on your right to Cahuita/Pto Viejo. Turn here to the right and continue this road straight south along the coastline. (See Downtown Limon map #26 and follow the green route) Please follow the signs to Cahuita, Puerto Vargas and Puerto Viejo. If you continue driving south on that road you will end at Punta Cocles, Punta Uva and Manzanillo National Park.
Bus:
From San Jose to Cahuita
Buses leave from the Gran Terminal del Caribe in San Jose (Calle Central/Avenidas 11 and 13) daily (6 a.m., 10 a.m., 12 md, 2 p.m. and 4 p.m.) for arrivals in Limon, Cahuita, Puerto Viejo, Bribri and Sixaola.
Travel time is four hours (direct), Buses continue to Sixaola. Buses return from Cahuita at 7 a.m., 8 a.m., 9 a.m., 11:30 a.m., and 4:30 p.m..
Tip: Direct buses between San Jose and Sixaola normally stop in Cahuita, ask the driver to let you off there.
From Limon to Cahuita
Buses leave from Limon for Cahuita, Puerto Viejo, Bribrí and Sixaola about every hour from 5 a.m. until 6 p.m., with the last bus returning from Puerto Viejo to Limón at 7:30 p.m.. Four other buses pass through Cahuita and Puerto Viejo on the way to Manzanillo from Limon (6 a.m., 10:30 a.m. p.m., 3 p.m. and 6 p.m.)
Note: Bus schedules to the Caribbean coast change frequently because of poor road conditions. Call Transportes Mepe, Tel: (San Jose) 506-2-257-8129, (Limon) 506-2-758-1572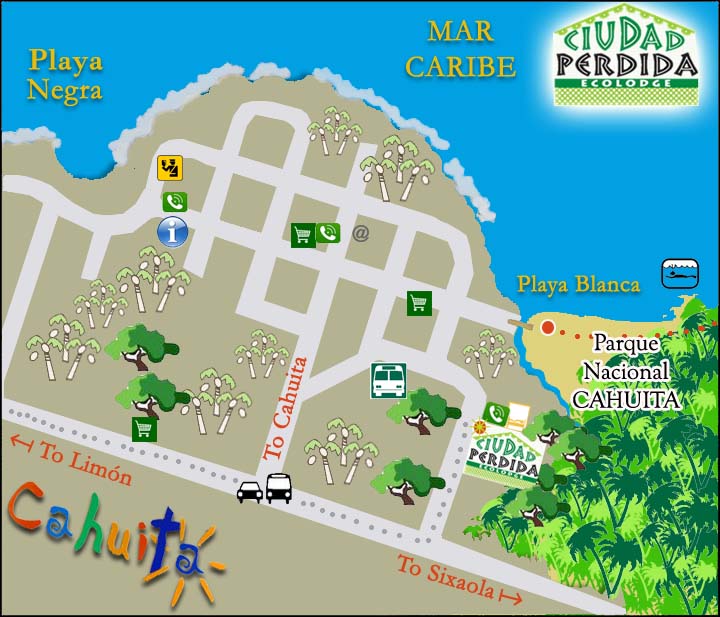 Teléfonos: (506) 2755-0303 & (506) 2755-0606
Email: info@ciudadperdidaecolodge.com
Ciudad Perdida Ecolodge ©
Cahuita Hotel
Location
Rooms
Reservations
How to get to Cahuita
Hotel Ciudad Perdida
Ecolodge
Gallery
About Us
Contact Us
Cahuita Costa Rica
Cahuita National Park
Cahuita Tours
Maps
Cahuita's Birds
Cahuita´s Flora & Fauna